Dust mites (Figure 1) are microscopic animals that are found in every home. They survive by consuming dead skin cells. They can be powerful triggers for asthma and allergies. Dust mites live in mattresses, pillows, carpets, fabric-covered furniture, bedcovers, clothes, and stuffed toys. Body parts and feces of dust mites can be asthma triggers. To protect members of the household from dust mites:
Wash sheets and blankets once a week in hot water.

Choose washable stuffed toys, wash them often in hot water, and dry thoroughly. Keep stuffed toys off beds.

Cover mattresses and pillows in dust-proof (allergen-impermeable) zippered covers.

Maintain low indoor humidity.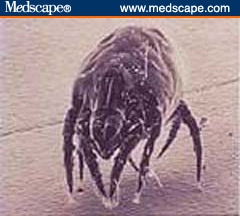 Figure 1. Dust mite. Source: American Academy of Allergy, Asthma and Immunology.
Figure 2. Photograph of dust mite.
Dust Mite Detection Kit

People with asthma and allergies can help to free themselves from the symptoms triggered by house dust mites with the availability of new ActivAllergy Mite Alert - a simple and accurate house dust mite allergen detection system which is available from the Professional Certification Institute for purchase by PCI Certified Environmental Hygienists.
One in four people in the UK now suffer from allergies - this is increasing by 5% a year, and one in eight people have asthma. The incidence of both these conditions continues to rise and the symptoms of both can be incredibly debilitating, but did you know...
"85% of asthma attacks are triggered by house dust mite allergens"
Many people with year round allergy and respiratory problems, including rhinitis and asthma, are allergic to house dust mites and their faeces. These microscopic creatures live in their millions in the warm and humid environments of our modern centrally heated homes and offices, thriving in particular in bedding, carpets and soft furnishings, feeding off flakes of human skin.
Up until now, knowing exactly where there are higher levels of dust mites in the home has been a problem for allergy and asthma sufferers. But with the launch of new ActivAllergy Mite-Alert, sufferers can now identify the 'problem areas' in their homes and offices, and deal with the specific areas with minimal time, effort and cost.
The ActivAllergy Mite-Alert monitoring system uses a simple three step process to quickly and accurately analyse different areas of the home or workplace. The result is provided within ten minutes, without the need to prepare or touch any chemicals, as the high tech sealed cassettes is extremely easy to use.
The dust sample is collected by vacuuming the test area; for example a specific mattress, carpet, cushion or pet bed, for approximately 30 seconds. Once the test cassette is full, the technologically advanced sealed unit is removed from the small vacuum and the specially prepared chemical solution is released into the collected dust sample. The chemicals within the solution then react with the dust sample to measure the quantity of house dust mite allergens present and give a result within ten minutes indicating a high or low prevalence of house dust mite allergens in that area (a colour will develop in the control window to indicate the result).
Muriel Simmons, Chief Executive of Allergy UK says: "Identifying the prevalence of house dust mites in the home has always been a problem. We welcome this new test, which will help people identify problem areas in their home or workplace so they can take preventative action without going to the unnecessary inconvenience and expense of completely changing their living or working environment. For example, it may not be necessary to remove all carpeting, it could be just the cushions on the sofa which are infested and need removing. We believe ActivAllergy Mite-Alert will help many people to improve their allergic condition by reducing their exposure to house dust mites."
Read also: Dust-Mite-Allergen

Up | Environmental Marketing Ideas | Hygienists Resources | OSHA-Lead-Penalty | Healthy-Home-Fundamentals | Pollution-In-Humans | Where-Asbestos-Are | Dust-Mites | Earth-Drying-Up | Air-Pollution-Genetics | Office-Germs | Legionnaire-Disease | Workplace-Lung-Disease | Air-Filter-Effectiveness | Hotel-Pest-Liability | Smog-Exposure | Airline-Respirator-OHSA | Chromated-Copper-Arsenate | Hygiene-Cleanliness-Allergens | Toxic-Dust-Problems | Rocky-Mountain-Spotted-Fever | Drinking-Water-Problems | Smoking-Causes-Asthma | Road-Dust-Mold | Home-Pesticide-Hazard | Toxic-Pollution-Rises | Environmental-Friendly-Building | Toxic-Urinal-Deodorant | Cleaning-Product-Asthma | WTC-Environmental-Lawsuit | Traffic-Heart-Attack | Fragrances-Weaken-Immune | Hazard-Exposure-Pathway | Flood-Advice-Tips | Foodborne-Disease | Infectious-Intestinal-Diseases | Respiratory-Infection | OSHA-Compliance-Tips | Indoor-Pollution-Hazards | Excessive-Noise | Living-Near-Parks-Good | Site-Map | Bacterial-Glossary

SITE MAP

For easy access of all the pages